Tom Davis Bio
Tom Davis – Guitar and Vocals
Tom is the lead vocalist and lead guitatist for the Front Street Blues Band and original founder of the group. He has put together a group that plans to leave it's mark in Denver.Tom is a veteran of the Denver music scene from the early nineties playing in a variety of bands with a hard rock feel. Today his vocal and instrumental expression is forged through his love of the blues. By merging a rock and roll tone and style into that familiar blues framework Tom brings a slightly more edgey bite to the blues while still honoring the style.Tom's influences range from 80's rock (Van Halen, AC/DC, Extreme, Def Leppard, etc) to Stevie Ray Vaughn, Eric Clapton, Robert Johnson, Joe Bonamassa, Jeff Healey, Albert Collins, BB King and much much more.Tom Plays:
Fender American Stratocaster Deluxe Plus, (1990). The Gold Lace pickups are stock except for the bridge pickup replaced with a hotcoil (although Tom never uses it). Tom currently uses .11 strings.
Fender Hot Rod Deluxe Amplifier
OCD distortion pedal.
---
Jim Hebb Bio
Jim Hebb – Bass Guitar and Vocals
Jim Hebb – Bass guitar and vocals. A veteran of the Washington, D.C blues/rock scene. He has had the honor and opportunity to play with many of the famous and infamous including, Roy Buchanan, Rory Gallagher, Albert Collins, the Nighthawks, and the legendary Little Feat. Jim enjoys playing the blues. "I don't like to think about why I like the blues. I hope it is nothing to do with some deep psychological trauma I suffered as a child."
---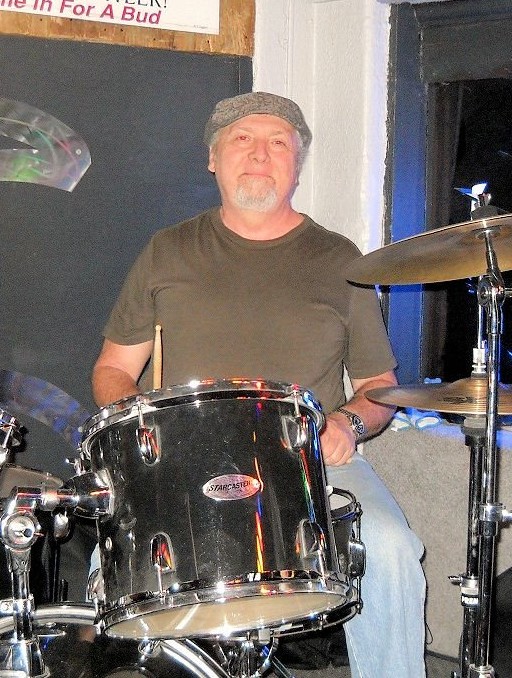 Michael Lepine – Drums
I've playing drums professionally for 30+ years.
During that time, I've played in a number of blues, jazz, and R&B groups, including Sam Mayfield, Cheryl Barnes, Laura Newman, Cheri Dufore, Rob Mullins, Soularus, Ricardo Pena, and Funk Shui.
Spent a few years as a studio player: 1 year at Gold Star studios in L.A., 2 years as a staff drummer at Applewood Studios in Golden, Co. and 6 months at A&R studios in New York as a staff composer and percussionist for the Children's Television Workshop project: 12 After School Specials (each an hours long with 45 minutes of recorded original music).
3 years at UNC Jazz program.
– first chair drum set for the UNC Percussion Ensemble
– Co-founder of the UNC Small Group Ensemble
I am passionate about playing and promoting American music forms of blues, jazz, and R&B. I love New Orleans style blues and R&B, particularly second-line funk rhythms.